Healer, Researcher and Muse
Musings: All in a day's work at "I Read Hands"

Healer – Assisting a person in recognizing their sense of purpose, why they are here, and confirming many aspects of their unique way of being as characteristics they have brought with them into this life experience, is a modality for healing. Some of these characteristics include genetics, i.e. our ancestors, some are from the serendipitous impulses of nature, and many most likely from our own soul's journey. When one is fully aware of how they best function, acknowledge their preferences, and have an understanding of their purpose, they feel balanced and whole. Instead of just surviving, they thrive.
As a healer I:
empower others by helping them to better know themselves.
work with light, oftentimes shedding light on the dark.
witness enlightenment, and become more enlightened.
touch others hands and lives on a deep level.
try to brighten someone's day, maybe even their life.
share insights, knowledge and wisdom.
carefully listen to others and to my inner self.
explore cycles of behavioral patterns that can inhibit or benefit my client.
reconfirm to myself there is more to this existence than what meets the eye.
learn compassion, non-judgment, service, honor, communication and humility.
am awed by the magnificence of being human.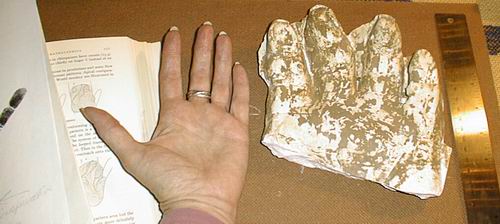 Researcher – Continuously comparing and sorting data from observations and studies, along with looking for deeper meaning into how I can read hands so accurately and consistently, opened doors to fascinating information and topics adding tremendously to my hand analysis. In limb development and biology textbooks I discovered that the science behind the formation of hands demonstrated that we come into this world as who we are from our very early cellular beginnings. Books on forensics illustrate our individuality as shown in our hand and finger prints (dermatoglyphics). Our preferences, personality, weaknesses and strengths all leave their imprints that can begin to be observed only weeks after conception and stay with us without much change throughout our entire lives.
As a researcher I have:
read many subjects I likely would never have thought of exploring otherwise.
compared many different types of hands and features in a variety of ways.
looked for how the hands reflect health and well being.
studied developmental biology and psychology books.
asked for feedback and looked for the common thread.
become informed.
shared and debated with colleagues and peers.
made educated guesses.
developed and deepened my understanding of hands and people.
realized we are not created equal, but have what we need for our own journey.
discovered things not previously known in my field.
"Know thyself" Ancient Greek Aphorism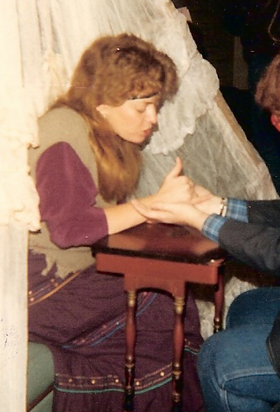 "All of us need to be in touch with a mysterious, tantalizing source of inspiration that teases our sense of wonder and goads us on to life's next adventure."  ~ Rob Brezsny
Muse – Just about everyone enjoys hearing about themselves, particularly when it is framed in the most positive light. Many people who wouldn't dare to be seen having their hands read, or who fear what might be said, are more willing to get in line with friends and colleagues at social and business functions especially after word gets around that my readings are not really fortune telling, but instead are all about you.
As a muse I get to:
satisfy several passions and interests.
play dress-up, wear fun accessories, and costumes are tax deductible items.
be an entertainer without the stage fright of an on-stage performance.
go to many parties and social events and meet interesting people.
experience diversity.
become evermore experienced.
fully express my passion.
bring joy to others.
have fun.
be mystical, magical and mysterious.
trust my intuition.
be a bohemian gypsy free spirit.
frequently be asked if I am real.
not take myself too seriously.
be an inspiration.
Juxtaposition. What a word. Your mouth puckers up to make a kiss right in the middle of saying it. Healer, Researcher and Muse might seem like an odd gathering of dissimilar subjects. We could even add Crone, Seeker, Artist along with the current popular label – life Coach, to the other (mysterious, eclectic) ingredients that make up who I am and what I do.
He sealeth up the hand of every man; that all men may know his work.  ~Job 37:7
Let me take your hands in mine and reflect back to you what a magnificent being you already are as well as your potential for even greater realizations and accomplishments.
in joy, peace and with love, Patti Lightflower
"We're never alone. As soon as we step outside the campfire glow, our Muse lights on our shoulder like a butterfly. The act of courage calls for infallibly that deeper part of ourselves that supports and sustains us." ~ Steven Pressfield
muse /mjuːz/n  1.  a goddess that inspires a creative artist, especially a poet
http://www.wordreference.com/definition/muse